Sharing musical thoughts and ideas.
November Area Events
Monday, October 25, 2021 by Paula Augustine | Area Events
November Area Musical Events:
ETSU Guest Artist Piano Recital- Awadagin Pratt
Wednesday November 17, 7:30 PM,
Awadagin Pratt, award winning pianist and pedagogue, performs at 7:30 pm on November 17, 2021, in the Martin Center Recital Hall. Ticket Information Here: https://www.etsu.edu/cas/music/events.php
---


Grit Series - The Unapologetic Unicorn
Tuesday, October 12, 2021 by Paula Augustine | Parent Article
What is the Unapologetic Unicorn?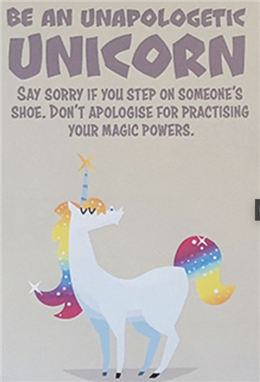 Our growth mindset focus will be the Unapologetic Unicorn. Stay with me on this!
Have you every run across this at your house?
They go to start playing a piece, moving their hands across the keys play a wrong note and say "sorry, sorry!" Once they find their starting spot, they play a few bars before you hear "ugh", then "oh, no…" and then a sigh and then another "sorry" at the end.
The Flagrant Unicorn doesn't apologize for getting glitter all over when practicing their magic doesn't work right.
Children learn from a very early age to say 'sorry' when they do something wrong, but making a mishap when practicing their magical powers of playing their instrument is not the same thing! There's nothing to excuse when you play a wrong note. It's part of the magical learning process and part of the performance process.
There are no mistakes, only happy little accidents. - Bob Ross
Your student will make many mistakes while learning a piece and this is nothing to apologize for. For some students practice can develop a negative association and putting on the cloak of apologizing for mistakes may contribute to this negative association. Constant apologizing for practicing may also lead to a low self-esteem.
While students get their glitter all over when practicing we will be learning how to enjoy the process. With joy students can laugh at their mishaps. We may take a wrong note and make something new out of it. We may simply point out the fact that the composer did an awesome job choosing the notes in the piece, they sound really good. But, most important, we will learn practice is never perfect. Practice is a journey and there will always be something to improve.
Let your students unapoligetically make mistakes. This is all part of growing as a musician.
Baroque Compoer - Johann Sebastian Bach
Monday, October 4, 2021 by Paula Augustine | Music History
Johann Sebastian Bach
So much has been written about Bach. His music and his life is well known. He was born in what is now Germany during a time when many princes ruled over the area. He worked for a few of the Princes and made a living writing music for their courts and for the church as well as playing the organ and teaching.
Click here for a more detailed history to read on J.S. Bach
Here is a video for kids on the life of J.S. Bach
Listening:
Prelude in C Major BVW 846 from The Well Tempered Clavier
Most students will recognize the Prelude in C Major. Many students also get to play this piece! This recording is played by Lang Lang, a very well known pianist today throughout the world. Lang Lang began playing piano when he was three and began his full-time professional music career at age 17. This recording has an interesting twist. Lang Lang wants to share classical music and make it more interesting with everyone. Watch this to see one way he does it.
Fugue no. 1 in C major [BWV 846]
In the Book The Well Tempered Clavier, Bach wrote a Prelude and a Fugue that went together. This is the fugue. Fugues are more difficult, they have three or four parts that play. Watch this version of the fugue and see the four colors they use to show each of the parts. Each color comes in playing the main theme, can you hear it?
Flute Sonata in E minor

Here are two of the four movements of the Bach Flute Sonata. When Bach was alive, they did not have a piano yet, only a harpsichord. The flute was also made of wood. These two recordings are made from instruments they would have played during Bach's time. The first is just harpsichord and flute, but the second video you will notice more instruments. These sonatas for flute may have been performed with just a harpsichord, or could have been performed with other instruments. Bach wrote a flute solo and for Continuo - which was an accompaniment like the one on the right with a line of music and numbers under. The Continuo part was to play the harmony and improv based on the numbers, called figured bass.
I hope you enjoy this month's listening!