Sharing musical thoughts and ideas.
February Area Events
Thursday, January 27, 2022 by Paula Augustine | Uncategorized
February Area Musical Events
Duo Amadeae Piano
Friday, February 11, 2022 7:30 PM, Martin Center Grand Hall
Drs. Esther and Sun-A Park perform as Duo Amadeae onstage together. Tickets are $15 General Admission, $10 Seniors, and students admitted free with ID
---
Celebrating Black American Composers
Wednesday, February 23, 2022 7:30 PM, Martin Center Recital Hall
Celebrating Black American Composers featuring the ETSU Piano Studio in collaboration with Black American Studies students. This event is free and open to the public. Livestream link for viewing remotely: https://youtu.be/YBx4pYmZmN0
---
February 24, 25, 26 2022 @ 7:30 pm, Milligan University Gregory Center, McGlothlin-Street Auditorium
An evening of music by Broadway's most beloved duo, Rodgers and Hammerstein. Featuring such favorites "How Do You Solve a Problem Like Maria?," "I'm Gonna Wash That Man Right Outa My Hair," "Honeybun," and "Shall We Dance?." A Grand Night for Singing will keep your toes tapping long after you leave. Tickets: $10 + service fee
Grit Series - The Yeti
Thursday, January 20, 2022 by Paula Augustine | Uncategorized
The Yeti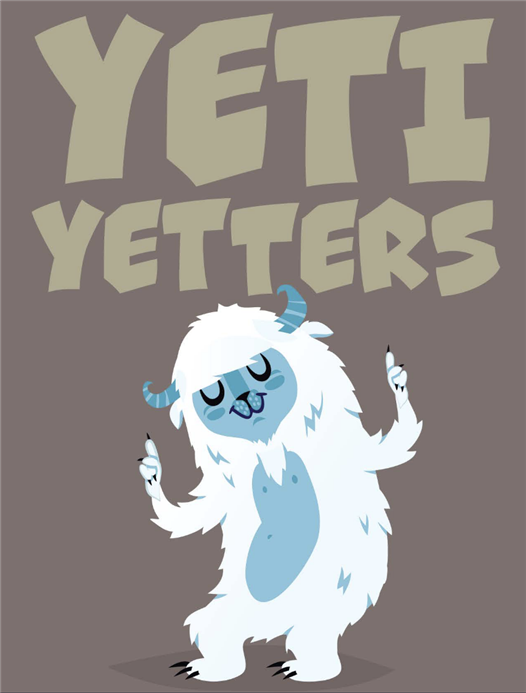 Welcome to the next Grit and Growth Mindset area we will be focusing in the studio. In the Yeti Yetters we are understanding the power of the word "yet".
A conversation in a lesson may go a little like this:
Teacher: "How did 'The Castle' go this week?"
Student: "I can't play it!"
I hear quite often students saying they cannot play something. They know they can't because when they try to play the sound is not correct. This is a true statement. Many times we encourage by saying, "Yes, you can!" and we try to be positive.
The student doesn't believe the positive statement, they know the honest truth. The secret is to add the word yet to a negative statement. "I can't play it, yet."
This one magic word can single-handedly reframe things students perceive as failures, helping them put mistakes and challenges in the right perspective.
We will be practicing adding the word yet to negative statements in the studio over the next month.
Introducing New Flute Zoo Classes
Monday, January 3, 2022 by Paula Augustine | Uncategorized
Flute Zoo
I am excited to announce the new Flute Zoo class for students ages 5-8.
With the innovation of the Jflute from Nuvo and the newest Flute Zoo books from Kathy Blocki this class is sure to be fun for the youngest new flute student.
The six week introduction class is where students will learn how to make their first sounds on the flute and play simple tunes as well as begin to understand how the written music works. Cost for the class will include rental of the instrument, the book, and 6 weeks of classes. After this introduction class students may participate in regular weekly flute classes, buddy lessons, or private lessons if they would like to continue their study.